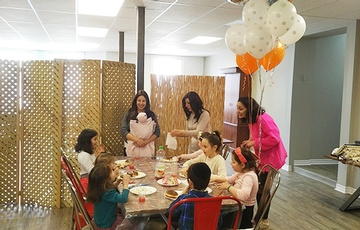 Chabad Mile End is a trailblazer in providing Jewish experience for children. From holiday programming to storytime, birthday club, and much more, Chabad provides enjoyable and meaningful jewish engagement for kids.
STORY HOUR
Chabad Mile End hosts a weekly story hour for children. We read a Jewish book and create a craft related to the theme. This Sunday hour exposes children to a broad range of topics, from holidays to mitzvos to how we treat our fellow person. The fun activity uses multiple media as a method of creative expression.
JEWISH BIRTHDAY CLUB
A Jewish birthday is a significant event in your child's life and we want to help remind you when it is. Please let us know when your child's birthday is. (If you don't know the Hebrew date please email us the secular date and we'll convert it to the Hebrew one.) We'll send your child a birthday card along with a special birthday.